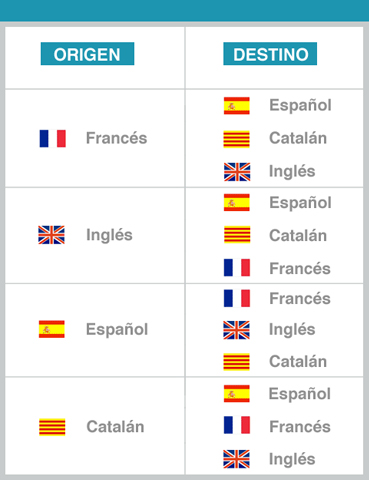 What do you need?
SWORN / OFFICIAL / CERTIFIED TRANSLATION
We specialise in:
· Official or sworn Translation of official documents issued in English or French which need to have legal effect in Spain and/or before the authorities of other Spanish speaking countries;
· Sworn, official or certified Translation of documents in Spanish that must be forwarded to the authorities of English or French speaking countries (in any continent) who require the documents to be translated by an official translator.
· At Translake we also provide services of sworn Translation between English and French.
This task is always carried out by a sworn translator legally appointed. Any official translation must be delivered printed on paper, and shall bear the signature and the official stamp of such official translator on all pages, as well as a compulsory certification established by the Bureau of Languages Interpretation of the Spanish Ministry of Foreign Affairs and Cooperation.
Here are some examples (the list is not all comprehensive):
Notary Deeds (Forming of Societies, Testaments, Powers of Attorney, Statements...)

Civil Certificates (birth, marriage, death, civil status, residence...)

Court Documents (trials, judgements, assignments, decisions, arbitrator rulings...)

Diplomas, Studies certificates

Tax, Labour, Police, Medical Certificates

Government Certifications (Authorisations, Resolutions, Permits...)

International Adoption Files, Reports and Follow-ups.
We also offer
INTERPRETATION
Assistance as sworn interpreter before the Law Courts and before Notary; every case is previously prepared (study of specific vocabulary and contents)

Consecutive interpretation, in meetings of companies, negotiations with attorneys, conferences.
LEGAL TRANSLATION
Documents and texts in all fields of Law: Commercial, Labour, Taxation, Civil, Administrative, Family:

Contracts, deeds, judgements, reports, audits, claims, powers, arbitration decisions.
TECHNICAL TRANSLATION
Reports, Expert Opinions, Patents, Memos, Balances, Studies, Projects, Tenders.

Sectors: Economy & Finance; Accounting, Banks & Investments; Commercial & Business; Government; Pharmacy & Health; Energy, Engineering & Architecture; Insurances; Communications; Industry, and more.
BUSINESS TRANSLATION
Texts for Companies, Communications, Yearbooks, Marketing, Advertising, Newsletters, Catalogues, Press.
ADVICE
Customised Attention: we study carefully each text sent to us and calculate an estimate according with their contents, volume and the schedule requirements of each client. We also can give you advice concerning your procedures and answer your possible questions regarding your documents and their translation.
"I met Nuria 18 years ago, when she registered in our professional organisation. I can say with certainty that she is an excellent professional and very competent. She is an expert who delivers high quality services. She is 100% reliable, and I have seen that she has never disappointed her faithful clientele during her long career."
Josep Peñarroja Fa, Sworn Translator, President of the Association of Sworn Translators and Interpreters of Catalonia. www.atijc.com
We guarantee the quality of professional & expert services, absolute confidentiality, always punctual, with competitive prices and customised for the most demanding clients.
We love a job well done!
If the translation which you need is not on this list,
Contact us and tell us your needs: let us take care of them.

You may
send an email
with the documents to be translated
scanned
as an attachment (be sure they are legible, please), stating the target language. We will advise you and provide you with an
estimate
free of charge, and the
time of delivery
. We make sure we fulfil your time requirements.
Follow me in:
Facebook
Twitter
Linkedin