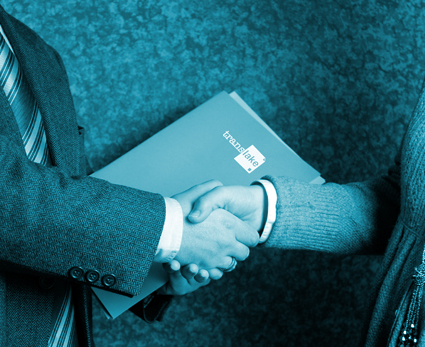 May we translake for you?
In Translake we cover a wide range of sectors and activities, from business as well as services:
· Business, Companies, Corporations, Associations.
· Independent Professionals, as lawyers, consultants, advisors;
· Individuals.
We are an International Service: we translate both for Spaniards having business or relations with English and French speaking countries (of every continent), as for other nationals who have settled or have relations in Spain and other Spanish speaking countries.
Our Vision: Facilitating international relations, dealings and communication among businesses, countries and individuals. Bringing cultures closer.
Some examples:
- Professionals: Notaries' Offices, Lawyers Firms, Audits, Consultants, Legal Accounting and Fiscal Bureaux, Architecture, Design, Engineering Firms.
- Business: Import & Export, Pharmaceutical Laboratories, Electrical & Energy Companies, Construction, Department Stores and Fashion, Travel Agencies, Airline Carriers, Transport, Insurance Companies, Distributors, Food, Automobile, Cinema, Publishing, Banks and Savings Institutions, Advertising & Marketing Companies and more.
- Non-Governmental Organisations (NGOs)
- Corporations, local or multinational.
- Government Institutions.
- Individuals: in their international steps (Marriage, Birth, Death, Studies, Working Permits, Emigration, Immigration, Wills, Powers, Purchase /Sale of Properties, Adoptions...)
SECTORS
· Law & Justice
· Economy & Finances; Accounting, Banking & Investments.
· Business: Management and Administration.
· State / Local Institutions
· Health, Pharmacy & Chemistry; Cosmetics
· Energy; Mining & Materials.
· Food
· Education
· Fashion
· Transport & Distribution
· Agriculture & Fishing
· Construction, Engineering & Architecture
· Insurance
· Intermediaries, Agencies
· Communications, Marketing & Advertising
· International Adoption
Praise for Translake's manager, Nuria Lago
"Nuria Lago's working relationship with our lawyer's firm as official translator is a lengthy one. We know that we can always count on her with total guarantee and reliability, even in the most complex cases, because of her high level of knowledge and competence."
Suzanne Rodríguez Crawley, Division of Communication in English, CUATRECASAS, GONÇALVES PEREIRA S.L.P. www.cuatrecasas.com
"Nuria is an extraordinary professional, who has a high sense of responsibility, and totally fulfils all her commitments. I can not recommend any other translator who gives me more confidence and guarantees."
Jorge Falip, Attorney, Senior Partner of Falip Abogados
"Counting on Nuria's and Translake assistance for all our public documents requiring an official translation means full reliability for us and it assures us that everything is under control because it is in the hands of excellent professionals."
David Sánchez Corrochano, Clerk of the Notaries' Office of Mr. Camilo José Sexto Presas, Barcelona.
"I met Nuria 18 years ago, when she registered in our professional organisation. I can say with certainty that she is an excellent professional and very competent. She is an expert who delivers high quality services. She is 100% reliable, and I have seen that she has never disappointed her faithful clientele during her long career."
Josep Peñarroja Fa, Sworn Translator, President of the Association of Sworn Translators and Interpreters of Catalonia.
You may
send an email
with the documents to be translated
scanned
as an attachment (be sure they are legible, please), stating the target language. We will advise you and provide you with an
estimate
free of charge, and the
time of delivery
. We make sure we fulfil your time requirements.
Follow us in:
Facebook
Twitter
Linkedin